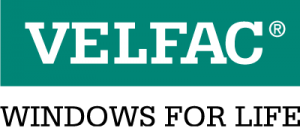 Slim and elegant window design from VELFAC – narrow window profiles that give your home an elegant look and lets in more light.
VELFAC designer windows and doors offer functionality, durability and a great look.
In addition to hundreds of colours and facade finishes plus several different handles, the characteristic narrow profiles of VELFAC windows provide every house with an elegant look and extra light.
Our experienced team of installers are able to offer a high quality, cost effective solution for anyone looking to build or renovate a building.
VELFAC WINDOWS AND DOORS installed by NKG Systems
VELFAC composite glazing offer exceptional energy efficiency and are a stylish alternative to aluminium windows and doors. Featuring external aluminium framing and internal pine, VELFAC doors and windows offer contemporary, energy efficient glazing options, from single windows to window walling, including external, patio and balcony doors.
The VELFAC signature frame combines sleek, durable exterior aluminium with internal pine to deliver a hard-wearing, low maintenance contemporary finish inside and out, with both frame elements available in a range of colours and finishes.
NKG Systems are VELFAC Direct Approved Joiners
VELFAC recommend the use of a VELFAC Direct Joiner to ensure the installation of the product is performed to the highest standard. All our joiners are put through the VELFAC Installation training program, which ensures that VELFAC can offer a 6 year warranty when installation is carried out by our approved installers.